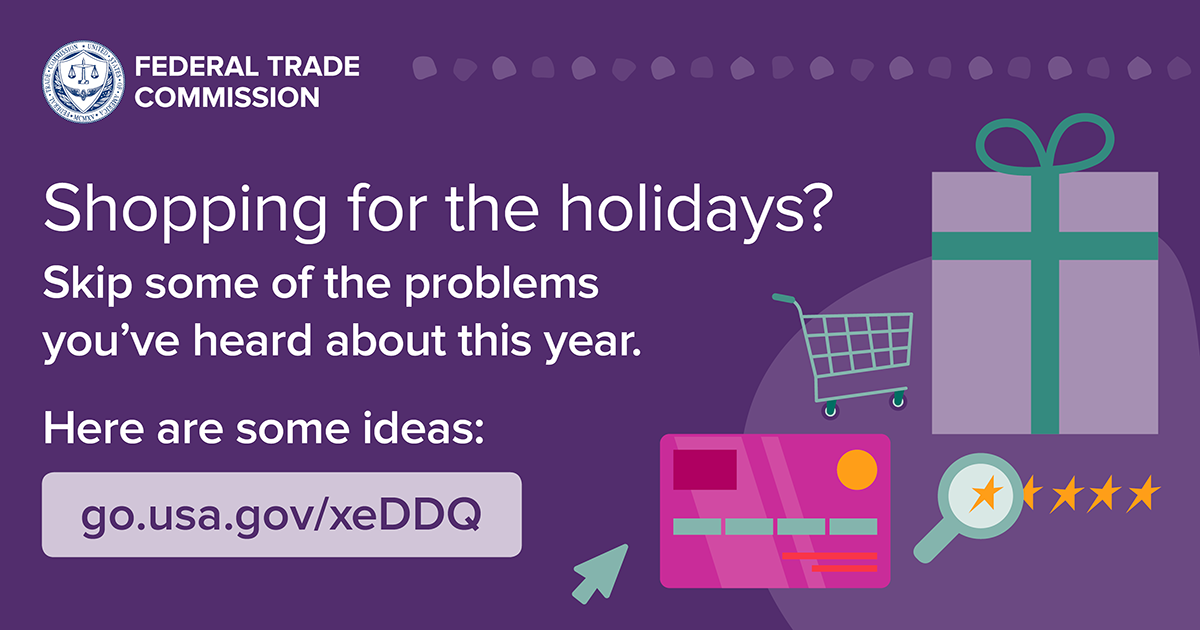 You've probably heard: this holiday season, it might be harder to find the gifts you're looking for. So, many of us might be looking for alternatives, like buying gifts locally — or maybe from online marketplaces or sites you find through your social media accounts, online ads, or by searching online. If that might be you heading online, here are some things you can to do to avoid a scam or negative experience:
Check the rules about refunds and returns, and what happens if there's a problem. Does the site have processes to help you get a refund if you don't get exactly what was advertised or never get the item?
Make sure they let you pay with a safe payment method. For example, credit cards have legal protections, or a secure online payment system can protect you in case there's a problem. If someone tells you to pay with a wire transfer, gift cards, or cryptocurrency, stop and find another seller. That's how scammers tell you to pay.
Don't buy from anyone who wants you to pay outside the marketplace's payment system. If you do, you'll lose any protection the site offers, and you probably won't get the item or a refund.
Find out other people's experiences. Search online for the site's name with words like "complaint" or "scam," and check to see if any well-known websites have credible and impartial reviews of the marketplace or the seller.
What if something still goes wrong? Try to work out problems with the seller. If that doesn't work, report them to the marketplace. If you paid by credit or debit card, file a dispute with your credit or debit card company. Read What To Do if You Were Scammed for more on what to do if you paid a scammer.
And report fraud, scams, or bad business practices to the FTC at ReportFraud.ftc.gov.